Tourist Destination - Cherai
A place is known for its rare blend of clean white sandy beach and cool placid backwaters, Cherai is a must-visit destination for travelers to Kochi. Here you get to savor all the sights, sounds and smells of a typical Kerala village with its lush green landscape comprising undulating paddy fields, coconut fronds swaying in the wind etc.
Introduction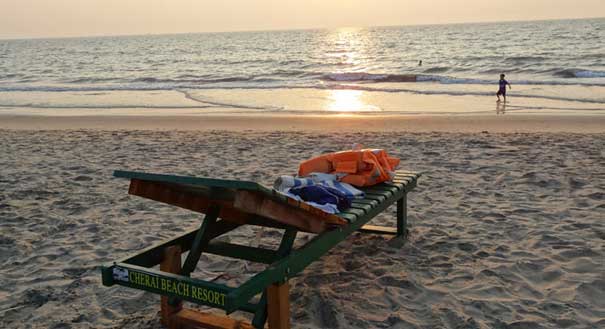 Twenty-six km by road from Ernakulam, Cherai Beach is an excellent place that has plenty of sun, sand, and water. It has only recently come into the limelight. Cherai is a village on Vypeen Island which is part of Ernakulam district. A narrow island strip stretching some 40 km, Vypeen has backwaters to the east and the Arabian Sea to the west. Cherai is accessible both by road and waterway. With the construction of three new bridges recently, the distance by road to Vypeen has been considerably reduced.
Caressed by both the sea and the backwaters, Cherai presents a unique environment. Cherai beach that lines the village of Cherai along the Arabian Sea extends 8 km. Not exposed to much tourist influx until recently, Cherai is less commercialized than Kovalam or Varkala. The development is chiefly concentrated near the 400-meter walkway. There are a number of hotels and shops here and the beach has a tranquil atmosphere. The golden sands and the shallow waters make it safe for swimmers. Dolphins can be spotted here occasionally. Land inward is all pastoral with paddy fields and coconut palms. The road leading to Cherai runs some way along the backwaters, offering a pleasing view of rows of Chinese fishing nets.
Description
Cherai is a unique combination of sea and backwaters rimmed in by lush green coconut palms and paddy fields. The backwaters are a combination of lakes, lagoons, canals, and estuaries. The place can be visited at any time of the year. Cherai Beach, one of the most beautiful beaches in Kerala bordering the northern end of Vypeen Island, is located about 26 km from Ernakulam city, Kochi. The 15 km long golden beach is very clean, shallow and is ideal for swimming, surfing and sunbathing. The newly beautified 400 meters of the main beach has a walkway and high mask lamps which make the beach enjoyable even at night.
Trained security staff are present round-the-clock at the beach. The beach is very safe and tourists of all age groups can enjoy it alike. The beautiful beach is studded with seashells of various hues and shapes. There is an entertainment park for children at the beach. Water scooters and Speedboats are available for hire. One could catch an occasional glimpse of Dolphins as they spring out and dive back into the water. The far end of the beach is lined with Chinese fishing nets which is a heritage attraction but sadly enough, are fast disappearing from the cityscape today.
A typical Kerala village with paddy fields and coconut groves nearby lends this place a rustic charm. The main attraction of Cherai is the 'Poyil', a large inland lake formed from a part of the calm serene backwaters and separated from the ocean by a narrow sandbar. A boat ride along the palm-fringed backwaters and paddy fields is a breathtaking experience you will never forget. The water is calm, crystal clear and you could lose yourselves in the aesthetic beauty of the surrounding landscape. One could get a glimpse of country boats ferrying paddy or fish, fishermen casting the net for the day's catch, reapers working in the paddy fields, toddy tappers climbing coconut trees for tapping toddy, ducks wading across the water with their ducklings, storks looking for their prey in the paddy fields etc.
The water fields here are single crop ones mostly cultivating paddy. In between the crop season, the paddy fields are converted into fish farms, mainly prawns. Cherai is also well known for mouth lingering fresh sea cuisine and country wine Toddy which is got from fermented coconut water.
Access
By Air: The nearest airport is Cochin International Airport at Nedumbassery, 22km from Cherai.
By Rail: The nearest railway station is at Ernakulam, about 26 km away. Kochi has 2 stations, Ernakulam Junction and Ernakulam Town. Trains from the Northern cities/Southern parts of India stop at Ernakulam Junction.
By Road: Now, the new Goshree Bridge from Ernakulam that stretches out across the backwaters connecting the islands of Bolghatty, Mulavukadu, Vallarpadam and Vypeen make tourist access to this beach much easier. There is another road route via Edappally to North Paravur and from there to Cherai, a distance of about 25km.
KSRTC Central Bus station is near the Ernakulam Junction railway station. It runs Express and Fast services from Ernakulam to other major cities within Kerala and into the neighboring states. Reciprocal services from other States are also available. There are plenty of private buses available for travel from Ernakulam to other cities. They operate from High Court Junction, Railway Station and Kaloor Junction.
By Water: There are regular boat services from Ernakulam High Court Jetty or the Main boat jetty to Vypeen. Cherai is 22km away (40 minutes by bus) from Vypeen island. There are also boat services every 15 minutes from Fort Cochin to Vypeen.
For more details, visit cherai.kerala.com