Tourist Destination - Thodupuzha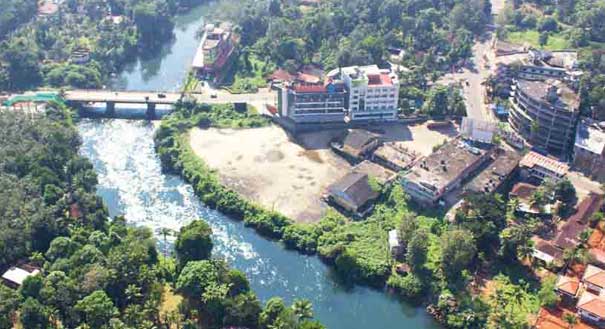 Referred to as 'Gateway to the High Ranges', Thodupuzha is a picturesque town with an ancient history. Mainly composed of hilly terrain and abounding in green vegetation, this vast town is situated in Idukki district, forming part of central Kerala. Thodupuzha is located at a distance of 62 km from Kochi and has a river by the same name flowing through it. Pala and Muvattupuzha are two of its neighbouring towns. The place is noted for its diversity of faith as Hindus, Syrian Christians and Muslims are known to exist in religious harmony. The town which houses a number of temples, churches and mosques is also a busy commercial centre.
The minority muslim population belonging to the 'rauther'clan are said to have descended from the former warriors of the Raja of Madurai who had migrated from Tamil Nadu. Also a large section of hindus comprise the 'vellala pillai's' whose ancestors were once inhabitants of Tenkasi in Tamil Nadu. As for its etymology, the name 'Thodupuzha' is said to have been derived from the terms 'thodu' meaning a small stream, and 'puzha' meaning a river. It is likely that what was once a stream later developed into a river, and the town touching its banks came to be called Thodupuzha, as 'thodu' also means 'touch' in Malayalam.
History
Thodupuzha's history dates back to several centuries. Jainism and Buddhism have left their imprints in the place as early as 300 BC, as is evident from the religious relics found at Karicodu in its suburbs. In AD 100, Thodupuzha and Muvattupuzha were part of the province of Keezhmalainadu then headquartered in Karikodu. During the 1600s, the kings of Vadakkumkoor took over and made Karikodu their bastion. During Marthanda Varma's reign, Vadakkumkoor became part of the state of Travancore. The relics of the fort can be seen at Karikodu.
The place also houses the Annamalai Temple which carries the traits of Thamizh architecture. At this temple built in the 14th century, one can see many statues and lamps made out of stone and metal. The church at Muthalakodam, a place situated 2 km from Thodupuzha, is said to have been constructed during the 13th century. The Ninnar mosque near Karicodu is believed to have been raised by the Vadakkumkoor Raja for his muslim soldiers. It formed part of Ernakulam district during the sixties but was integrated into the newly formed district of Idukki in 1972. Thodupuzha village panchayat became a municipality in 1978.
Access
Thodupuzha has an excellent network of well-maintained roads which connects it to the nearby towns and cities. The Muvattupuzha-Punalur State Highway SH8 passes through Thodupuzha and connects it to two of its neighbouring towns, Muvattupuzha and Pala. The Thodupuzha-Puliyanmala State Highway SH33 connects Thodupuzha to the Idukki district centre at Painavu as well as tourist destinations like Idukki Dam and Thekkady.
The Alappuzha-Madurai State Highway SH40 passes through Thodupuzha town. The Muvattupuzha-Theni State Highway SH43 passes through some parts of Thodupuzha taluk.
The nearest railway stations are:
Alwaye - 56 km from Thodupuzha
Kottayam - 55 km from Thodupuzha
Ernakulam - 60 km from Thodupuzha.
The nearest airport is Cochin International Airport at a distance of 54 km from Thodupuzha.
Features
Mainly agriculture and cottage industries contribute to the economy ofThodupuzha. Rubber is the chief plantation crop which accounts for a large share of the revenue. Farming is also done in pineapple, coconut, rice, coco, tapioca and banana. Spice crops such as ginger, turmeric and pepper are raised as well. Over the last decade or so, the place has developed at a rapid pace as a tourist destination. Besides being noted as a gateway to the high ranges, Thodupuzha enjoys the advantage of being a planned city with enough amenities like several bypass roads, bridges, private and transport bus stands and a civil station. The Townhall, Municipal park and Shopping complex are a few landmarks in the city.
Thodupuzha is famous as a seat of learning especially higher education ever since the sixties, housing a number of mainstream as well as parallel colleges, teacher training centres and high schools. The Janaranjini Vayanasala situated at Kolani in Thodupuzha has one of the largest collection of books on literature, children's writing, history, scriptures and so on. Besides the library, the two-storied building also houses a TV room, computer centre, conference hall and other facilties.
Popularity
Thodupuzha is the native place of popular model-turned-actress Asin's father.A number of Malayalam movies viz.Swantham Lekhakan, Katha Parayumbol, Veruthe Oru Bharya and others have picked on this scenic spot and its suburbs for their shooting location. The office of famous footwear brand Lunar's is based at Thodupuzha.
Tourist Gateway
By itself, Thodupuzha town may not be a major tourist destination, but it remains the gateway to top tourist spots like Munnar, Thekkadi, Idukki Dam, Peermade etc. Thommankuthu, located at about 20 km east of Thodupuzha is famous for its numerous waterfalls and is an ideal place for nature lovers. A 10 km trek would take you to the hill top from where one can have a panoramic view around. Elaveezhapoonchira is another trekker's delight offering a winding trail of serene rocky grassland all the way upto a cliff, with a breathtaking bird's eye view of the green valley below.
Malankara dam carrying a fine reservoir across the Thodupuzha river is yet another attraction nearby. Other major tourist spots within and surrounding Thodupuzha include Uravappara, Moolamattom power house, Kolani Kavu, Thumbichi Mount, Paramada echo point, Elappilly waterfall, Nadu Kani Pavilion and Thattakuzha.
For more details, visit www.Thodupuzha.com