Kerala tourist destination - Thattekkad
Thattekkad is situated in Kothamangalam of Ernakulam district, belongs to Devikulam Taluk, central Kerala, is made up of dense tropical evergreen and deciduous forest and grassland patches, housing a population of over 500 species of exotic birds. It is the exotic microcosm of the bird population that brought the internationally recognized ornithologist Dr. Salim Ali to this place. His efforts were instrumental in the formation of the renowned Thattekkadu Bird Sanctuary to a large extent. Thattekkad also has extensive plantations of teak, rosewood, mahogany, etc. The dense forest is also the home of nearly 28 varieties of animals and nine varieties of reptiles.
Bird Sanctuary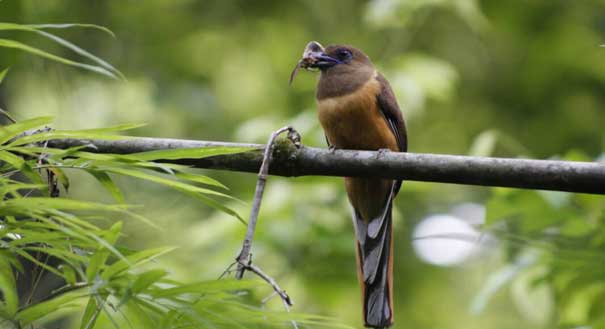 Spread across 25 sq. km. the sanctuary lies between the tributaries of the river Periyar like a peninsula. Rare birds like the Crimson-throated Barbet, Bee-eater, Sunbird, Shrike, Black Winged Kite, Night Heron, Falcon, Grey Jungle Fowl, White-Breasted Water Hen, Hornbill, Ceylon Frogmouth, Rose-billed Roller, and Blue-winged Parakeet live here.
This sanctuary is located about 58 km from Kochi city and 13 km northeast of Kothamangalam in Ernakulam district. The place can be accessed by rail from Aluva, about 48 km away, and by air, from Cochin International Airport, about 44 km away.
For more details, visit www.Ernakulam.com
Nearby Tourist Spots
:: Bhoothathankettu Dam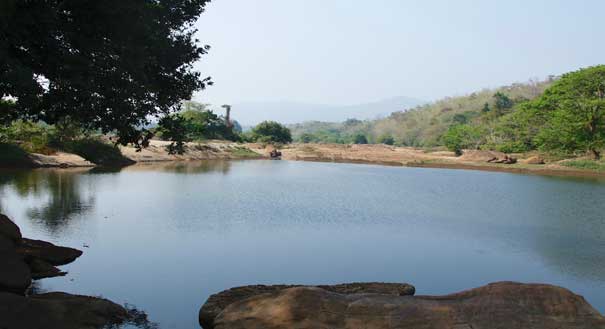 Lying close to the Salim Ali Bird Sanctuary at Thattekkad is Bhoothathankettu. A myth connected with the origin of this place says that this natural fortification of forests and hills was built by Bhoothams (spirits/ghosts) overnight. Hence the name Bhoothathankettu (fort of the spirits). Later, this natural topography helped in building a dam here.
Bhoothathankettu, a scenic dam site with boating facilities is situated in a vast virgin forest. Trekking through the forests here is an exhilarating experience. The two main irrigation projects of Ernakulam district - the Periyar Valley Irrigation Project and the Idamalayar Irrigation Project are also located nearby. It is located 50 km north east of Ernakulam town in Ernakulam district of central Kerala.
Access through:
Rail: Ernakulam junction, about 50 km away.
Air: Kochi international airport, about 26 km from Ernakulam town.
:: Kumbalangi Island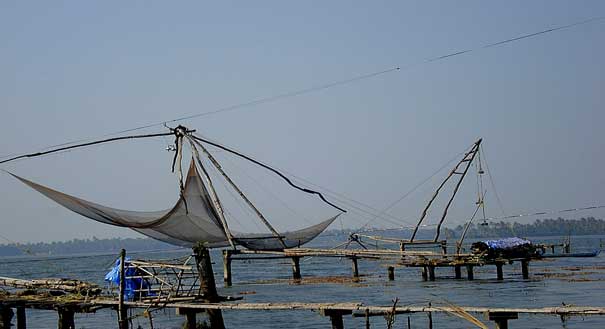 This beautiful island is under the Integrated Tourism Village project which is a unique initiative to transform the tiny island as a model fishing village and tourism spot. Here at the Kumbalangi Tourism Village, one can fully savor a variety of natural splendors that highlight the outstanding ecological balance of the location, paramount to a model tourist village. The village, the first of its kind in the country, is located near the port city of Kochi in Ernakulam District.
Model Tourist Village
The model village is a veritable treat to its visitors with the famous Chinese fishing nets and many other sights to savor. As part of the model village project at Kumbalangi, a nearby island near Palluruthy would also have plenty of interesting vistas and activities in the near future. This coastal hamlet, without doubt, provides a fascinating glimpse of the simple and prosperous livelihood of the villagers and also unravels the age-old, magnificent culture and heritage of the place. This village has unparalleled natural beauty.
Access through:
Rail: Ernakulam Junction, about 25 km away.
Air: Cochin International Airport, about 40 km away.
:: Athirapally Waterfalls
The unending fall of water like a silver cascade near a greeny mountain is beautiful to watch, and the water which flows from the forest is medicinal too. This place, 80 km away from Ernakulam, is increasingly gaining importance as a major tourist spot.
:: Kodanad
Kodanad, set on the southern banks of the Periyar river amid the beautiful high ranges near Perumbavoor, is one of the largest elephant training centers of Kerala. Earlier, elephants captured from the Malayattoor forests (the forests in the east and north of Kodanad) were trained here. Since the introduction of a ban to elephant capture, Kodanad has been reduced to a training center. Kodanad is about 30 km from Ernakulam town and belongs to the high ranges on the southern bank of the river Periyar.
Elephant Centre
Elephants are often referred to as the sons of the Sahya (the Western Ghats ). Elephants are an integral part of Indian mythology and culture. Once a part of everyday life in Kerala, elephants are the most ornamental and auspicious animals here. No festival or celebration is complete without an elephant procession. Rows of majestically caparisoned elephants, replete with colorful silken parasols form the most spectacular part of any event here. The famous Malayattoor Church is near Kodanad.
Muthanga of Wayanad district and Konni of Pathanamthitta district are two other such centers. Another attraction for elephant lovers is Punnathur Kotta, of the neighboring Thrissur district, where some 40 elephants of the Guruvayoor temple are groomed.
Access through:
Rail: Ernakulam, about 30 km.
Air: Cochin International Airport, about 65 km.
:: Thani Illam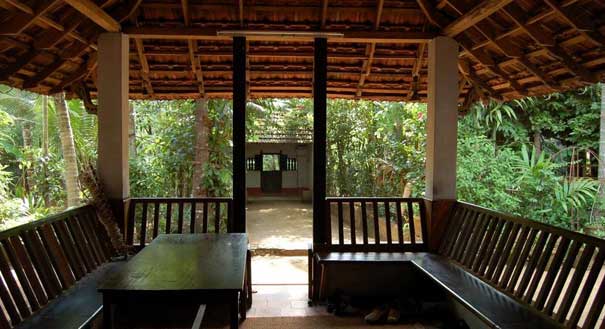 This 100-year-old structure which was home to the famous Malayalam writer Malayattoor Ramakrishnan is now owned and maintained by a couple who play hosts to visitors coming to the Illam. This heritage structure promoted by the Grihastha Project and approved by the Department of Tourism, has preserved and maintained its traditional architecture, and way of life.
Heritage Homestay
It is a house with a natural air and set up in the traditional way. Thani Illam (short form of Thannikkatt Illam)was the original home of a Brahmin family. At the Illam, visitors are served only vegetarian cuisine and no liquor is allowed inside the house. A highly flexible approach to a visitors' activity program, which depends entirely on the visitors' interests and needs, makes Thanni Illam a home away from home.
The Illam currently offers two rooms for stay viz. Thekkini and Kulappura. Thekkini is located on the South side and hence the name Thekkini (Thekku means South). The second room, Kulappura, is situated on top of the car porch. Originally, it was the room above an internal pond specifically meant for the ladies of the house. Kulam means pond/pool and Pura means room/ house.
Access through:
Rail: Aluva, about 26 km.
Air: Cochin International Airport, Nedumbassery, about 12 km away.
Other Attractions
:: The Antique Sellers of Jew Street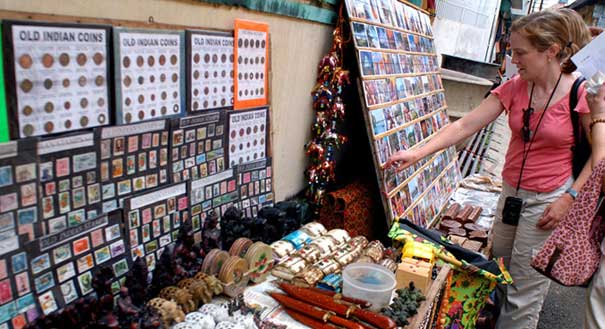 The shops nearby the Jewish synagogue near Mattancherry are the centers of spice trade and curious. Varieties of traditional items are sold here. It's just a walk down the lanes of antiquity. The Jew Street is lined with shops that sell curios, antique pieces of crockery, carved wooden furniture, bronze and brass sculptures, remnants of traditional houses, and jewelry. The antique sellers of these streets are the descendants of a fast dwindling population of Jews who settled down here in AD 52. Every piece that they sell has its own tale to narrate - of a palace or a home of the nobility, of travels across many lands and ages, etc. The Jewish Synagogue is a fascination for hundreds of visitors every day and is a mark of exceptional architecture and history. There are a few Jewish settlements and colonies too in the place.
Access through:
Rail: Ernakulam about 10 km.
Air: Cochin International Airport, about 30 km.
:: Periyar Wildlife Sanctuary
It is a beautiful place where wild animals are nurtured. And it is 192 km away from Ernakulam.
:: Fort Kochi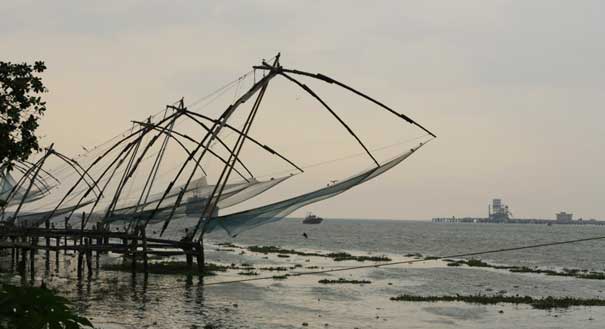 It is a historical place with tales of myriad seafaring visitors who landed at Fort Kochi for trade and stayed here for long and became the inhabitants here. The history of the island of Fort Kochi began with a major flood in 1341 AD. Later Kochi became the trade center with seafaring visitors from all over the world. It became the first European township when the Portuguese in the 15th century settled here.
Later Kochi was handed over to the hands of the Dutch in 1663 AD and later it came to the hands of British rule in 1795. It became the prime commercial center and its fame soared far and wide. It became not only a trade center but also a major military base, a vibrant cultural hub, a great shipbuilding center, a center for Christianity and so on. After all of these shuffling and reshuffling events in its history, about thirteen communities still stay here in harmony.
The other sites of interest are the Chinese fishing nets (the first net was believed to have been used somewhere between 1350 and 1450 AD), Vasco Da Gama Square, Santa Cruz Basilica, St. Francis Church, VOC Gate, Bastion Bungalow, etc.
Access through:
Road: Fort Kochi is accessible by bus or ferry. The bus ride from Ernakulam town, which is nearly 13 km away, takes about an hour and the ferry ride from the Main boat jetty at Ernakulam, about 20 minutes.
Rail: Ernakulam, about 1 1/2 km from the Main boat jetty.
Air: Cochin International Airport, about 20 km.