Tourist Destination - Lakshadweep Islands
Nature's destination
Visitors to Kerala who are searching for a tropical paradise will find it in Lakshadweep( meaning"one hundred thousand islands" ) which lies between 200km and 400 km off Kerala in the deep blue of the Arabian Sea. The smallest of India's Union Territories, Lakshadweep's 36 tiny, coconut palm-covered coral islands make for the archetypal tropical hideaway, each edged with pristine white sands and surrounded by calm lagoons where the average water temperature stays around 26°C throughout the year.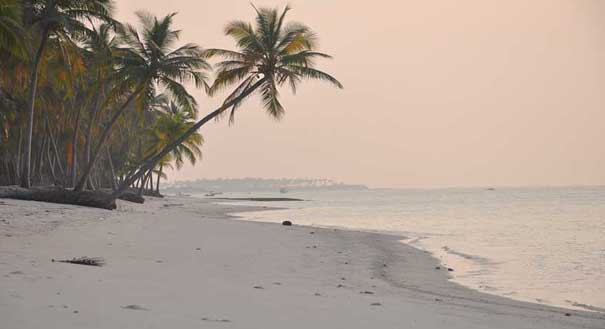 Lakshadweep Islands with its mysterious and white sandy beaches greets you to a new world of unspoilt beauty. This group of coral islands comforting the Arabian Sea is fringed by swaying palm leaves and fresh water lagoons, and it bathes under abundant sunshine. Lakshadweep has a lot of excitement and mystery to unavel. This island beauty which is untouched by industrialization, is a treasure house of golden beaches, chirping birds, frothy brooks and lashing waves.This is a place where the natural sights, sounds and smells offer solace to the senses,where the very atmosphere is invigorating.
General information
Beyond the lagoons of Lakshadweep lie the famous coral reefs, home to sea turtles, dolphins, eagle rays, lion fish, parrot fish, octopus and predators like barracudas and sharks. Mostly devoid of animal or bird life, only ten of the 36 islands are inhabited by humans, with a total population of just over 50,000, most of whom are Malayalam-speaking Sunni Muslims who are believed to have descended from seventh-century Keralite Hindus who then converted to Islam.
The main sources of income are fishing and coconuts. Fruits, vegetables and pulses are cultivated in small quantities but staples such as rice and many other commodities have to be imported. The Portuguese, who discovered the value of coir rope spun from coconut husk, controlled Lakshadweep during the sixteenth century.When they imposed an import tax on rice, the locals retaliated by poisoning some of the forty-strong Portuguese garrison, and terrible reprisals followed. As Muslims, the islanders enjoyed friendly relations with Tipu Sultan of Mysore, which naturally aroused the ire of the British, who moved in at the end of the eighteenth century and remained until Independence.
Attractions
Lakshadweep is a destination which engulfs all the natural splendours in one place, decorated with the pleasant presence of sun, sea and sand. It dazzles in the colours of its serene 36 coral islands. The sandy beaches and blue waters form the soul of this heavenly abode where tourists flock in from far off places,eager to enjoy a memorable holiday or vacation. The crystal clear waters is ideal for snorkelling and scuba diving,and offers an exclusive Maldives style beach experience unique in India.
Located in the proximity of Kerala, Lakshadweep treasures all the richness of nature in the vast bounty of its dotted coastline. The white sandy beaches fringed by swaying palm tress and water lagoons give the place an exotic look. Lakshadweep Islands still remains virgin with none of the popular artificial modifications disturbing its beauty. The island reefs abound with many species of fish and underwater animals moving freely in the blue water. There are many pristine accommodation bases in Lakshadweep to serve visitors with all facilities.
The islands that constitute Lakshadweep are Kalpeni island, Minicoy island, Agatti island,Kavaratti island,Kadmat island and Bangaram island.Agatti island is the gateway to start the wonderful journey to Lakshadweep. It houses the airport, which operates regular flights from Kochi, opening doors for all those who wish to enjoy the pleasant and mesmerising experience of Lakshadweep.
Activities
Lakshadweep offers a wide selection of beaches to unwind amidst all the natural treats. The Bangaram island with its sun kissed beach and fresh water lagoons is a right place to indulge in adventure sports.There is no A/C, TV, radio, telephone, newspapers or shops, let alone discos or loud music-which makes it an ideal natural destination.One can go for snorkelling, scuba diving, fishing, and plenty other activities to get the maximum feel of the place. The Kavaratti island, another gorgeous beach stands up as the headquarters of the Lakshadweep administration. Kavaratti has one of the most developed beaches.Another feature of this beach is that it is home to 52 mosques. The famous Ujra mosque is known for the magical waters of its well which is believed to cure ailments. There are glass bottomed boats for travel and sightseeing, and also an aquatic museum which give a great insight into the abundance sea life in Lakshadweep.
If you are a diving enthusiast then Kadamat island is the right place for you.It is an ideal place for all water activities. Island facilities include scuba diving , glass-bottomed boat trips to neighbouring uninhabited islands, and some deep-sea fishing.
Access
By Air
By air, one can fly from Kochi to Agatti, 1.5hrs journey by Indian Airlines and Kingfisher Airlines, the two airlines which connect to the island.The cost per head comes to around Rs 5000 (one way).
By Sea
By sea,the route is from Kochi to Agatti via Bangaram and Minicoy;it takes 18-20 hrs to reach the destination;booking can be made through Lakshadweep Tourism Board.
Best season: From October to March
Languages spoken: Malayalam and Mahl
It is possible to visit Lakshadweep Islands throughout the year. The hottest time is April and May, when the temperature can reach 33°C.The monsoon (May–Sept) attracts approximately half the total rainfall seen in Kerala, although in the form of passing showers rather than a typical monsoon deluge.During this period,the seas are usually rough and dangerous to swim in.