This spicy item can be had for Lunch or Dinner along with Rice or Chappathi.
Ingredients
1 Pork 1/2 k.g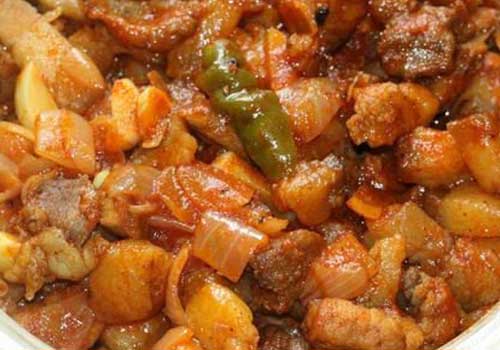 2 Raw Banana 200 gms
3 Onion 60 gms
4 Ginger 40 gms
5 Garlic 30gms
6 Green chilly 20gms
7 Coconut Oil 40gms
8 Garam Masala 30 gms
9 Chilly Powder 25 gms
10 Coriander Powder 25 gms
11 Turmeric Powder 20gms
12 Lime One
13 Curry Leaves 1 sprig
Preparation Method
1. Wash and clean the Pork. Cut into small pieces(1 inch) and boil it.
2. Remove the skin of the raw banana and cut it lengthwise and then make into thick sheets and boil it.
3. Heat oil in a pan and add the sliced ginger, garlic, green chilly, and onion, and curry leaves. Sauté well and add the masala and fry well.
4 Add the pork and raw banana into the Pan and Fry it nicely. Squeeze little water and lime juice and add salt.
Note: While boiling the Pork and Raw Banana add little turmeric and salt.