Its a sweet dish of Karnataka usually prepared during occasions & festivals. It has a variant texture of being crunchy, soft or with dripping ghee at different places.
Cuisine Style Karnataka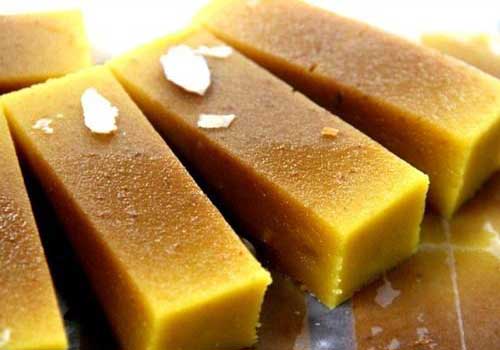 Ingredients
1.Bengal Gram Flour-1cup
2.Sugar - 2 cups
3.Ghee -1cup
4.Water - 1/2 cup
Preparation Method
1. Mix the gram flour with a little ghee and fry this for 10 minutes in medium flame in a pan.
2. Dissolve the sugar in water and bring it to boil until the sugar syrup reaches one string consistency. Reduce the heat.
3. Now pour the ghee and gram flour in a steady stream into the sugar syrup while stirring.
4. Cook until the mixture starts leaving the edges of the pan and looks a bit dry and turns light golden color.
5. Remove from fire, pour into a well-greased tray and press it down with a spatula.
6. When it is still hot, cut into rectangular shapes. Cool and serve.