Ela Ada, a traditional Kerala dish made with rice dough or ragi dough using banana leaves, makes a great breakfast or an evening snack.
Ingredients
1. Rice flour, lightly roasted - 1 cup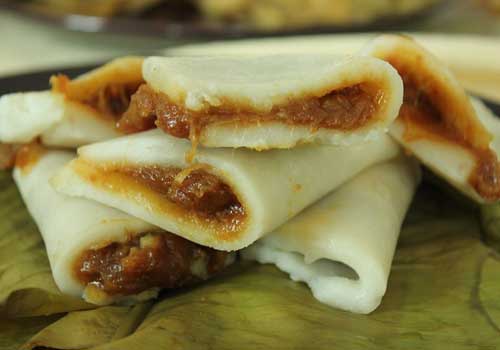 2. Water - 1½ cup
3. Oil - 1 tablespoon
4. Salt to taste
Ragi dough
1. Ragi powder - 1 cup
2. Rice flour - 1/4 cup
3. Salt to taste
For filling
1. Grated coconut, fresh - 1½ cup
2. Jaggery - 150 gram
3. Cardamom, powdered - 2
4. Ripe plantain, cut to small pieces - 3
5. Beaten rice / Aval - 1 cup
Preparation Method
To make rice dough - In a pan boil water, add salt and oil. To boiling water add rice flour, put off the flame, stir and mix the flour very well. Close with a lid and set aside for a while. When it cools, make balls out of the dough.
To make the filling - Boil little water & jaggery in a pan. Once the jaggery has dissolved, filter it and remove any dust particles. Then again boil melted jaggery to a thick syrup. Add coconut, beaten rice, Cardamom powder & banana pieces. Mix all ingredients well and cook till the filling is thick. Take off the stove.
On a small piece of banana leaf, place one rice dough ball, press and spread out on the leaf.
Spread the filling in the center. You can even just use grated coconut as a filling.
Now after the filling is done, fold the leaf in half and then press. Press the sides as well, so that the filling will not come out.
Place the prepared banana wraps in steaming vessel and steam for 10 to 15 minutes, till it is fully cooked.
Take the steamed ada out of the banana leaf wrap and serve.