A typical Kerala style preparation made from the traditional Vazha Pindi, the simple and delicious Pindi-Pachadi which goes with any meal, is also a healthy dish. Include it in your menu!
Ingredients
1. Fresh Pindi finely chopped - 1 cup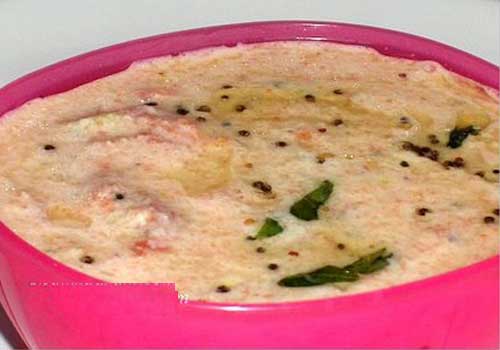 2. Onion finely chopped - 1 cup
3.Grated coconut - 1½
4. Powder - 2 big spoons
5. Powdered mustard - 1 big spoon
6. Sour curds - 1 cup
7. Salt - to taste
8. Mustard - 1 teaspoon
9. Red Chillies - 2 no.s
10. Curry leaves - 6 nos
11. Coconut oil - 1 tablespoon
Preparation Method
Mix the finely chopped Pindi and onion in a mixer/ blender.
Mix the paste of the grated coconut and the chili powder in the curds, add the powdered mustard and mix thoroughly.
Add the required amount of salt.
Season with coconut oil using mustard, red chilies, and curry leaves.
Your new Pindi – onion Pachadi is now ready.
It will serve as a simple dish that will go with any kind of meal.