Mussels, known in Malayalam as Kadukka or Kallumakkai, is a popular seafood in Malabar regions of Kerala. Mussels are fried, stuffed, curried, pickled and are used in rice dishes for making biriyani or pulao. Arikadukka, as the name suggests in Malayalam is mussels stuffed in rice paste and steamed within its shell, which is then fried.
Ingredients
1. Medium size mussels - 25-30 no.s For Stuffing dough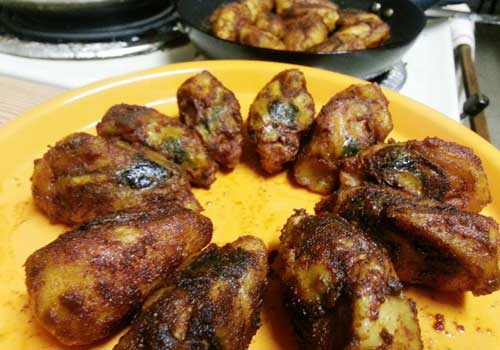 2. Rice flour - 3 cups
3. Grated coconut - 1.5 cups
4. Shallots / small onion - 3 no.s
5. Aniseed - 1 teaspoon
6. Jeera/cumin seeds - 1/2 teaspoon
7. Salt to taste
Masala batter
8. Red chili powder - 2 teaspoon
9. Turmeric powder - 1/2 teaspoon
10. Garlic flakes - 2 no.s
11. Aniseed - 1/2 teaspoon
12. Salt - to taste
Preparation Method
Wash the mussel shells well. Boil the shells in enough water, till the shells open. Drain all the water. Do not use shells that have not opened. Those are not good ones.
Scoop out the mussel meat from the shell. Clean the inside part of the mussels to remove any dirt there. Cut and remove the black part in the bottom of the mussel. Clean well and set aside.
Grind the ingredients for the dough, except the rice flour, to a smooth paste with water. Add to the rice flour and make a dough.
Stuff this dough into the mussel ( inside part of the mussel and the outer part. Cover well with the dough. Place this stuffed mussels in a well-cleaned mussel shell to steam).
Steam the stuffed mussels in a steamer or use a pressure cooker in which a utensil for steaming is placed and steam mussels in it, covered with a lid.
Steam for 10 minutes. When fully cooked. Take off the steamer and place to cool. Then scoop out the stuffed mussels from the shells.
Grind all the ingredients for masala batter together with little water and make a thick batter. Dip or lightly coat the steamed mussels in this batter.
In a wok or kadai, add enough oil to deep fry. Add mussels to the oil and fry till crisp and golden brown in color.