A great vegetable-flour-spice combination that goes well with Chapathi, puri, appam, bread or rice. Adding coconut milk gives it a typical Kerala flavour.
Ingredients
1. 500 gm chopped vegetables of your choice, preferably potato, carrot, beans & peas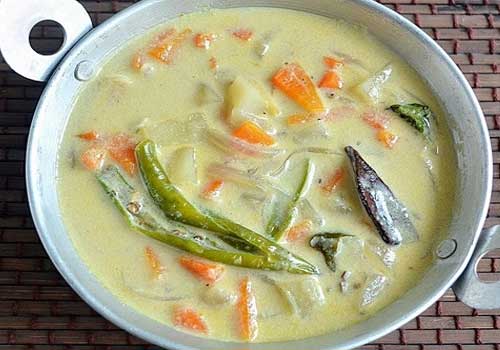 2. 1 cup coarsely chopped onions
3. 2 tbsp butter or oil
4. 1 cup refined flour
5. 2 tsp salt
6. 1 tsp powdered black pepper
7. 4 cups water
8. 1 cup thickly sliced carrots
9. l cup diced potatoes
10. 1 cup French beans cut into 2-3 pieces each
11. 1/8 tsp nutmeg
Preparation Method
Heat butter or oil and add onions and stir fry till soft.
Increase the heat to high and add the vegetables.
Lower heat, add flour and keep stirring till pieces are coated.
Add water, bring to a boil, then simmer till vegetables are cooked.
After removing from stove, add coconut milk.
Serve with chapatis, puris, appams, rice or bread.