A very simple yet healthy vegetable dish smooth on the tongue and light on the stomach, it can be had along with meals or taken with aappam. This cool non-spicy coconut based item has been made an integral part of the traditional sadya.
Ingredients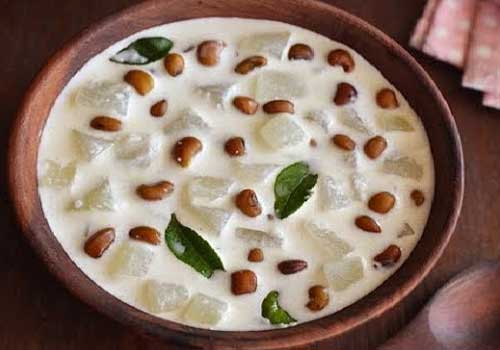 String beans (payaru) - 250 grams
Pumpkin - 250 grams
Ash gourd – 250 grams
Vanpayaru(optional) – 100 grams
Fresh coconut – one
Green chillies cut lengthwise into halves – 4-5 pieces
Fresh coconut oil – 1 tbs
Curry leaves – 2 sprigs
Preparation Method
For the coconut milk, Grate the coconut. First, add 1cup of warm water and squeeze out the milk using the mixie. Keep the first milk aside.
Then to the coconut shreds, add 1 and a half cups of warm water and similarly collect the second milk.
In a heavy bottomed pan put the diced vegetables, chillies and second(thin) milk and boil well on low heat till the vegetables are cooked - the pumpkin should become squashy.
Add salt to taste along with the curry leaves. If it is too watery you can add a tsp of rice powder at this stage.
Then add the first(thick) milk and just bring to boil - do not let it continue boiling.
Turn off the heat, add fresh coconut oil and remove from stove. Serve hot!