It is a delicious dish exclusively prepared in the Malabar region of Kerala
Ingredients
1.Ripe Banana - 1 1/2 bananas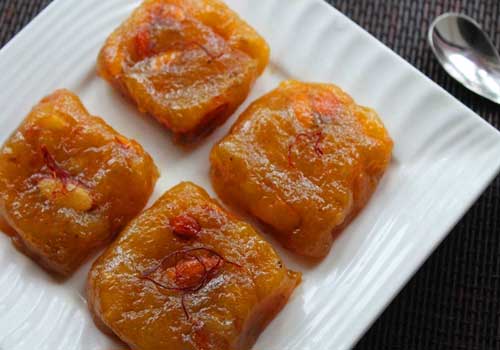 2.Sugar - 2 1/2 cups
3.Water - 1/2 cup
4.Lemon Juice - 1/4 cup
5.Ghee - 3/4 cup
6.Cardamom powder - 1/4 tsp
7.All-purpose flour - 3 Tsp
8.Cashews(roasted or plain) - handful (for decoration)
Preparation Method
Pressure cook the bananas until soft.
Remove the outer skin and de-seed(Remove the black layer inside.)
Mash the bananas to a paste in a food processor or blender.
Make the syrup of sugar by dissolving in 1/2 cup of water. It should be of string consistency.
When this consistency is reached, add the lemon juice and again allow it to reach the same thick consistency.
To this, add the mashed bananas.
To thicken the halwa, at this stage, add the flour dissolved in 1/4 cup of water. Keep on stirring the mix to obtain a thick mass.
Add ghee little by little. When this becomes a thick mass, add the cardamom powder.
Mix well and pour into a pan greased with ghee.
Decorate with cashews.
When cool, cut and enjoy.