Cutlet is a popular snack equally loved by people of all ages. Making Cutlet is very simple.
Ingredients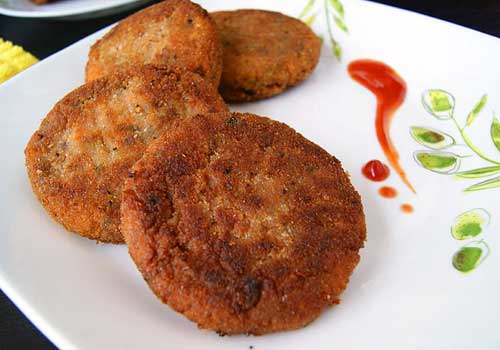 1. 2 cups boiled potatoes(mashed or grated)
2.1/2 cup boiled green peas
3.1/2 cup boiled carrots(finely chopped)
4.1/2 cup boiled long green beans(finely chopped)
5.2 green chilies (chopped)
6.1/2 tsp grated ginger
7.1/2 cup breadcrumbs
8.1/2 cup cornflour
9.1 tsp red chili powder
10.1 tsp garam masala powder
11. 1/4 tsp turmeric powder(Haldi)
12.1/2 tsp amchur
13.Salt to taste
14.Vegetable oil as required
Preparation Method
Mix potatoes(mashed or grated), green peas, carrots, green beans, chopped green chilies, grated ginger, redchilli powder, garam masala, turmeric powder, amchur, and salt.
Mix cornflour and potato mixture and knead to make a smooth dough.
Take a small quantity of this mixture and make ball form. Then flatten it on a smooth surface in a square shape. Cut into two (triangular) parts, each half should be about 1-2 cm thick.
When you are done with the potato mixture, roll each of the cutlet in breadcrumbs.
Heat oil in a deep frying pan.
Deep fry the cutlets until golden brown. Serve hot with bread and tomato sauce.