Falooda is a popular cold and sweet beverage equally loved by people of all ages made by milk, rose syrup, vermicelli and so on.
Ingredients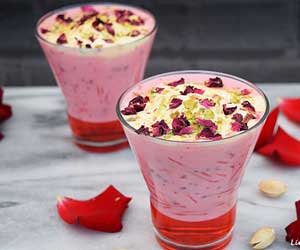 1. 1 cup cornflour
2. 2 cups water
3. plenty of ice-cold water
Preparation Method
Mix cornflour and water.
Cook on slow fire, stirring continuously, till transparent.
If required add few more tbsp. water while cooking.
The mixture, when cooked, should be transparent and can be sticky.
Oil inside. Spoon in cooked mixture.
Hold press over a large bowl of ice water.
Do not disturb by stirring.
Keep in refrigerator to chill till required.
Drain in the colander before using.
For falooda seeds: Soak cleaned seeds in 1/2 liter water for 30 minutes. Drain in the colander, chill in refrigerator till required.