This is originally a "Pattar" dish which has now become part of Kerala cooking. The name is indicative of crushing coconut shreds and squeezing out the milk for the payasam. Nowadays it can be easily prepared using readymade coconut milk. Rice, wheat or pulses form the main ingredient for this delicious dessert item.
Cuisine Style Palakkadan
Ingredients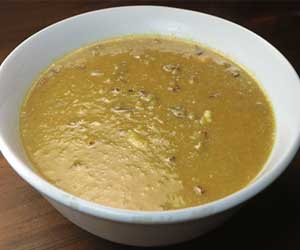 Raw rice washed and cleaned-100 gms
Coconut-1 no.
Jaggery-400 gms
Pure ghee-2 tbsps
Copra, cashew, cardamom-for garnishing
Preparation Method
For the coconut milk
After the coconut is broken into two clean halves, it grated into fine shreds. Using the mixie, collect the fine thick milk and keep it aside. Repeat this procedure two more times. The second time, add a little water, and when mixed, it will give milk of a thinner consistency. Collect this milk in another utensil and keep it separate. The third time what you get is a very thin watery coconut milk.
The payasam
After the rice is washed, put it in a thick-gauged utensil, and cook it in the third coconut milk, which is the thinnest variety. In the meantime, melt the jaggery in half a cup of water, and once melted, remove from the fire, and strain it to filter the sand and other impurities. Next, transfer the cooked rice to a thick bottomed wide mouthed vessel. Add the melted jaggery and boil until the rice and the melted jaggery become a cohesive unit. At this point, the raw jaggery smell will disappear. Pour the two tablespoonfuls of ghee and thoroughly mix the payasam. Now add the second coconut milk. Cook for another five minutes. You will notice that the payasam is getting thicker. If and when satisfied, add the first thick coconut milk and do not stir. Switch off the flame.
For garnishing, use copra, cashew, and cardamom. Cut the former into small thin flakes, and fry in pure ghee, till it becomes yellowish brown. Similarly, break the cashew nuts into small bits and fry till golden brown.
Enjoy the rich natural taste!