A sweet and sour banana combination flavored with sugar and spices, this novel and the tasty item will supplement your breakfast.
Ingredients
1. Ripe bananas - 2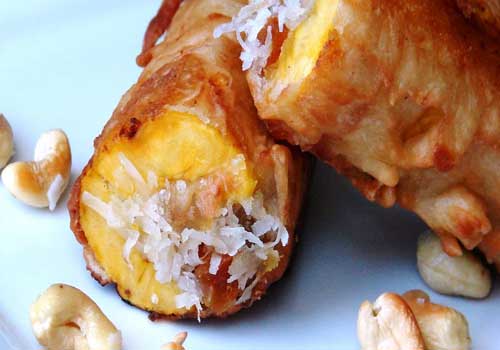 2. Powdered cardamom - 2 pods
3. Sugar - 2 tablespoons
4. Flour - 2 tablespoons
5. Egg - 2
6. Raisins - 1 tablespoon
7. Cashew nuts (chopped) - 2 tablespoons
8. Water - For mixing
9. Oil - For Frying
10. Salt - To taste
Preparation Method
Beat the eggs with sugar, heat one tablespoon ghee, add the egg and stir well to scrambled egg consistency.
Add cashew nuts, raisins, and cardamom powder. Remove from the fire.
Peel the banana and slit into four without cutting ends. Stuff the banana with the scrambled eggs.
Make a paste with flour, salt, and water. Apply the paste on the stuffing.
Heat the oil slowly and put the banana in it. Deep fry to a golden brown and remove.