Without Inji Curry, the traditional Sadhya of Kerala is always incomplete. This dish will always make you feel the real taste of Kerala.
Ingredients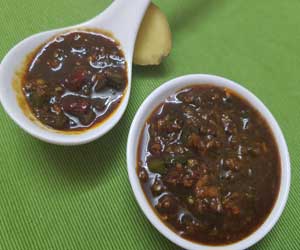 Ginger – 100 gm
Tamarind – size of a small lime
Chilly powder – 2 tsp
Coriander powder – 3 tsp
Jaggery – size of a gooseberry
Mustard – 1 tsp
Curry leaves
Salt
Fenugreek powder – 1 tsp
Coconut oil
Preparation Method
Cut the cleaned ginger in round slices. Fry them in coconut oil. Crush the fried ginger using a mortar and pestle. Add 1 tbsp of water to tamarind and make a pulp. Add chilly powder, coriander powder, jaggery and salt. Mix well and add crushed ginger too. Add 1/2cup of water to this and mix well. Heat some more oil in the same pan in which you fried ginger and splutter mustard. Add curry leaves and the tamarind, jaggery & ginger mixture. Let it boil till it becomes thick. Add fenugreek powder & mix. Remove from fire.