A sweet vermicelli recipe garnished with spices, nuts, and cream, this mouth-watering delicacy can be served as a dessert...
Ingredients
1. Ghee - 1½ teaspoon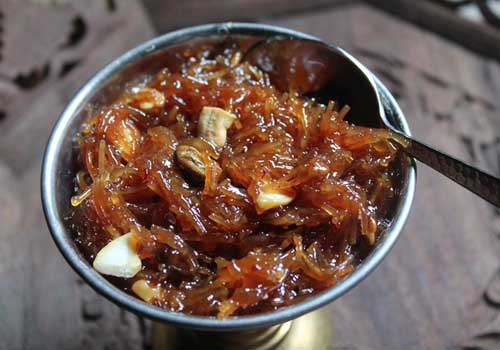 2. Fine vermicelli - 125 grams
3. Hot water - 1½ cups
4. Saffron strands - ¼ teaspoon
5. Sugar - ½ cup
6. Sliced blanched almonds - 2 tablespoon
7. Ground cardamom - 1/8 teaspoon
8. Sultanas - 2 tablespoon
Preparation Method
Break the vermicelli into small pieces less than 2.5 cm in length.
They need not be uniform, but longer pieces make stirring difficult.
Heat ghee in a heavy saucepan and fry the vermicelli until golden brown, stirring so that it colors evenly.
Add hot water and saffron and bring to the boil, then turn heat low, cover and simmer gently until vermicelli is cooked.
Add sugar and sultanas and cook uncovered until liquid is absorbed.
Stir in the almonds and cardamom.
Stir well and serve warm with cream.