Prawn Biryani is a delicious Malabar recipe. This can be made very easily on occasion as well as household activities.
Ingredients
• 450 gms Prawn
• 2 cups Basmati Rice
• 6 Green Chili
• 3/4 cup of Cilantro Leaves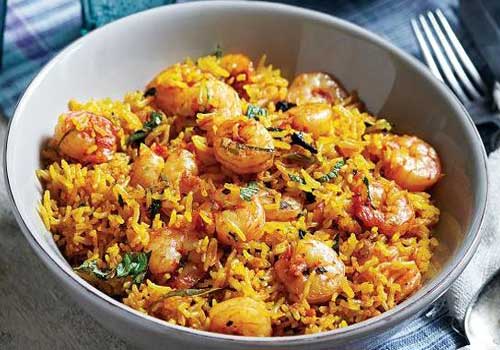 • 2 tbsp Ginger-Garlic Paste
• 1/2 tsp Cumin Seed Powder
• 1 tsp Coriander Powder
• 1 tsp Turmeric Powder
• 1/2 tsp Garam Masala Powder
• 1 cup Onion (finely sliced)
• 1/2 Tomato (chopped)
• 4 tbsp Cooking Oil
• 1 tbsp Ghee
• Salt to taste
• 3 tbsp Water
• 2 tbsp Coconut Milk
Preparation Method
1. Wash the rice and soak it in water for 30 min.
2. Drain and cook the rice normally in a rice cooker.
3. Add a dash of ghee while cooking the rice.
4. Make a fine paste of green chili, cilantro, garlic, ginger and 3 tbsp water. Keep it aside.
5. Clean & devein the prawns.
6. Marinate them with 1/2 tsp turmeric powder and 1/2 tsp salt.
7. Heat oil in a pan and fry the prawns lightly for 3 minutes and keep it aside.
8. In the same oil add the sliced onion and fry till light golden brown.
9. Add the wet paste, and fry in medium heat for 5 minutes.
10. Add rest of the spices and tomatoes and fry in medium heat till oil starts leaving the side of the pan.
11. Add the fried prawns and fry for 5 to 10 minutes. Add little water if necessary. Add the coconut milk.
12. Now grease the serving dish with little bit of ghee and put a layer of rice.
13. Put a layer of prawn over it and then again rice.
14.Garnish it with fried onions and cilantro leaves.