A nourishing food item that can be taken along with "arachu kalakki" or "thayir pachadi", it tastes great with "inji puli" and makes up a healthy wholesome meal.
Cuisine Style Iyengar
Ingredients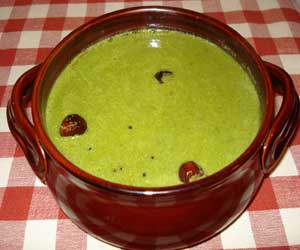 Veggies chopped fine (can include all vegetables including greens )
Coconut - 1 cup
Uzhunnu paruppu - 1/2 tsp
Dried red chilies - 2 no.
Jeerakam - 1 tbsp
Tovara paruppu - 1 cup boiled and mashed
Preparation Method
Boil the veggies in an open vessel with a little turmeric, salt and a pinch of chilli powder.
Dry roast jeerakam, uzhunnu paruppu, dried red chillies and a pinch of asafoetida.
Cool and grind this into a paste along with freshly grated coconut.
Once the veggies are boiled, add mashed tovara paruppu and the coconut paste.
Let it stand for a boil. Adjust salt. Add fresh curry leaves (bruise them a little bit before adding).
Then temper with coconut oil, mustard, asafoetida and if you like, a little uzhunnu paruppu.