Also called rice pancakes, this spicy item can be had for breakfast or snack along with chutney or sambhar.
Ingredients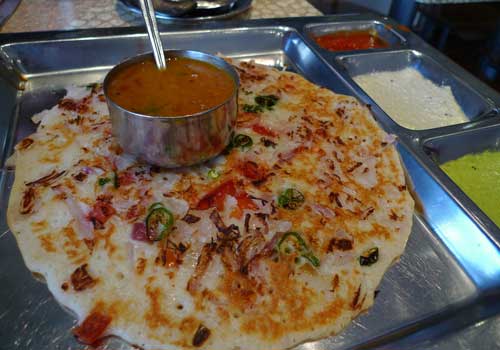 1. Long Grain Rice - 3 cups
2. Flat Rice (Aval) - 1 cup
3. Curd (Yoghurt) - 1 cup
4. Fenugreek - 1 Teaspoon
5. Salt - 1/3 Teaspoon
Preparation Method
Wash and drain the long grain rice, puffed rice, and fenugreek seeds.
Soak them in yogurt in such a way that the ingredients get well soaked. Leave it to soak for 2 hours.
Grind the mixture into the paste(consistency equivalent to idly dough).
Add salt to this dough and allow it to ferment overnight. It is ready to use the next morning.
Take a big spoon of the dough and spread it on a frying pan and add oil to make round pancakes.
Serve them with coconut chutney or any spicy chutney.
For extra taste, one can cut onions, tomatoes, and peas and sprinkle on the dough when it is spread on the frying pan.