Leafy Vegetables are always good for health and also delicious too. Cheera Thoran is a dish like that, which tasty as well as healthy.
Ingredients
1.Cheera/spinach-chopped- 2 cups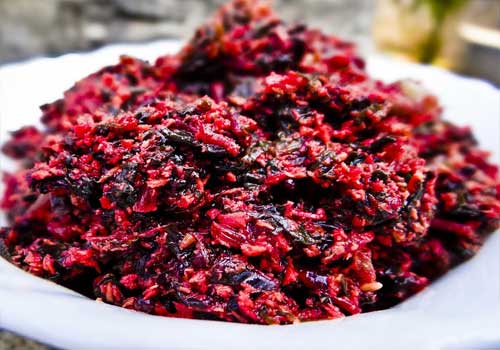 2.Mustard seeds-1/4 tsp
3.Garlic chopped-1/2 tsp( optional)
4.Green chili -chopped- 2 nos ( or to taste)
5.Onion- chopped- 1 small
6.Curry leaves- few
7.Turmeric powder-1/8 tsp
8.Cumin powder-1/4 tsp
9.Grated coconut-3 to 4 tbsp
10.Salt to taste
11.Oil
Preparation Method
At first, heat some oil in a pan. Then add mustard seeds into it and let it splutter. Then add chopped garlic, green chili, onion and curry leaves. You have to saute till onion turns translucent. Add turmeric powder and cumin powder and mix well. The chopped cheera should be added to this and also salt to taste. Mix it and cook it until it gets dries. Add grated coconut into this and then mix well. Cook for 2 more minutes.