Pavakka or Bitter Gourd is one of the nutritious vegetables. The traditional Pavakka Theeyal of Kerala will be nutritious as well as delicious.
Ingredients
1.Pavakka – 1 medium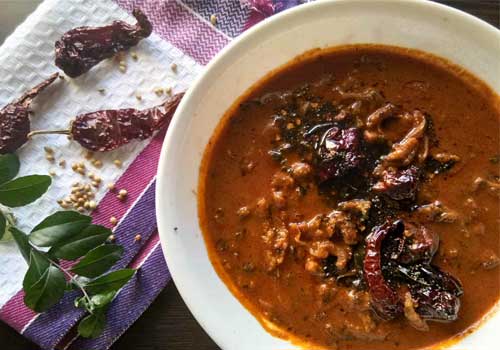 2.Coconut – 1 cup
3.Chilli Powder – 1 desert spoon
4.Coriander Powder – 1 desert spoon
5.Turmeric powder – 1/2 teaspoon
6.Pepper – 2
7.Fenugreek – a pinch
8.Mustard seeds – a pinch
9.Small Onion – 4
10.Ginger – 1 desert spoon
11.Garlic – 1 desert spoon
12.Green chilli – 1,2
13.Tamarind – size of a small lemon
14.Salt
15.Coconut oil
Preparation Method
First, you have to fry the coconut till it becomes golden brown. Then add the chilli powder and continue frying till it becomes dark brown. On cooling, grind it without water. Add some water to the ground mix & stir well. Keep it aside. Soak tamarind in 1 tablespoon water. Then you have to steam pavakka, with coriander powder till it becomes soft. Heat oil in a pan & saute the steamed pavakka for 5 minutes. Now add the tamarind along with its pulp. When it starts boiling add the ground coconut mix. Allow it to boil. Garnish with fried small onions & curry leaves.