A sweet Kerala delicacy that complements every feast, made from the typical Kerala item ada, and milk, nourished with raisins and nuts
Ingredients
1. Instant ada - 250g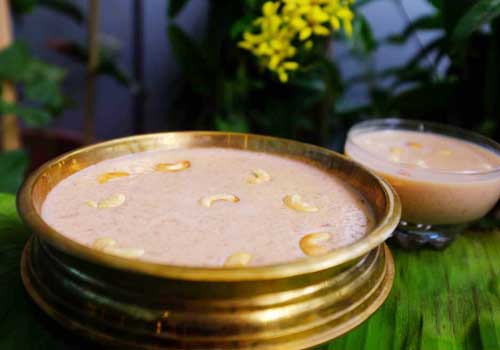 2. Water - 6 cups
3. Butter - 1 ½ tsp
4. Milk - 300ml
5. Condensed milk - 500ml
6. Sugar - 1.5 cup
7. Fine rice flour - 1 Tsp
8. Cashew nuts - ½ cup
9. Cardamom powder - ½ tsp
Preparation Method
Cook ada in water. As soon as Ada is cooked, wash it in cold water and drain.
Put the butter and ada together and stir on slow fire taking care that the ADA does not break or gets soggy.
Add milk, condensed milk, and sugar. Mix the rice flour. Allow it to simmer till it thickens
Remove from fire and add the fried cashew nuts and cardamom powder.
Stir continuously for some time so as to prevent the payasam from curdling.