A Tasty Kerala style preparation with Pineapple, Coconut, and Curd. This preparation is sufficient for serving 4 people. Make it more sweet by adding little sugar if required.
Ingredients
1. Pineapple - ¼ th of a big pineapple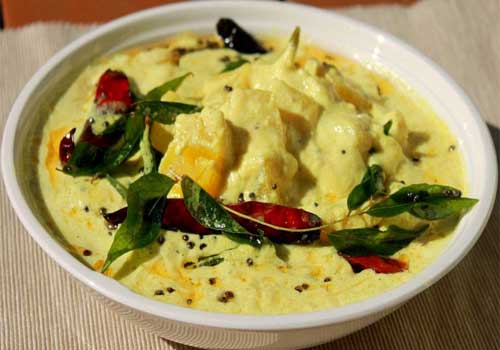 2. Grated coconut - 2 big tbsp
3. Cumin seeds(Jeerakam) - 1 tbsp
4. Green chilies - 2 nos
5. Chilly powder - 1 Tsp
6. Turmeric powder - ½ tsp
7. Salt - As reqd
8. Mustard seeds - ½ tsp
9. Dry red chillies(Kollamulaku) - 2 nos
10. Coconut oil - 2 tbsp
11. Curry leaves - A few
12. Thick curd (not sour) - 1 glass
Preparation Method
1)Peel off the skin of the pineapple and cut it into very small pieces.
2)Cook them in a vessel along with chilly powder, turmeric powder, salt, and slit green chilies.
3)Grind together coconut and cumin seeds.
4)When the pineapple gets fully cooked, add the ground coconut mixture.
5)Allow the mixture to get cooked. :- Make sure it doesn't get too watery. The mixture should be thick.
6)Heat oil in a pan.
7)Splutter mustard seeds, dry red pepper and curry leaves.
8)Add the above seasoning into the pineapple mixture.
9)Allow it to cool.
10)Add curd and stir it to get the reqd consistency.
:- You can add sugar if you don't find the curry sweet. (Sometimes, the pineapple might not be sweet enough.)
:- Similarly, you can make pachadi with ripe plantains. However, the plantains should be very ripe.