A tasty dish made of egg and potato...
Ingredients
1. Egg - 4 no.s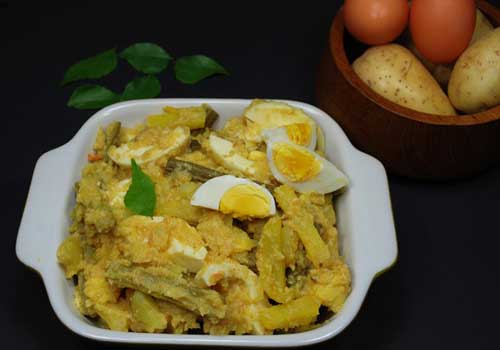 2. Potato(medium-sized) - 1 no.
3. Coconut - 3 tablespoon
4. Cumin seeds - ½ teaspoon
5. Green chili - 1 no.
6. Curry leaves - few
7. Pearl onion (shallot) - 1 no.
8. Turmeric - a pinch
9. Salt - to taste
10. Coconut oil - ½ teaspoon
Preparation Method
Boil the egg in whole until firm inside.
Remove shell and Cut the egg into long slices along with the yolk.
Cut the potato into long thin wedges and cook with turmeric and salt.
Grind the coconut, cumin seeds, pearl onion, and green chili into a coarse paste without adding water.
When the potato gets cooked add the egg slices and mix carefully so that the pieces are not broken.
Add the coconut mixture and let it cook for about 5 minutes.
Finally, add curry leaves and sprinkle a little coconut oil for flavor.