This breakfast dish called "Puttu", prepared by steaming is very popular in Kerala. Rice Puttu with banana, pappadam, some ghee, and sugar, the mix is really a mouthwatering combination.
Ingredients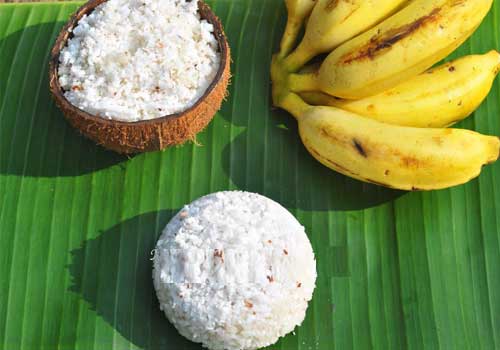 1. Rice flour - 1 cup
2. Freshly grated coconut - ½ cup
3. Pinch of salt
4. water as required
5. Extra grated coconut - ½ cup
Preparation Method
In a pan, add rice flour and dry roast lightly. Stirring continuously. The white color of the rice flour should change very lightly. Take care not to burn the powder. Cool the powder.
To the rice powder, add 1/2 cup of the grated coconut, mix and rub in with the rice flour. Dissolve salt in half a cup of water. Sprinkle this water on the rice flour, little at a time and with hand mix the flour. Repeat sprinkling water till the flour is wet.
To know if the mixture is right to start steaming, just take some mixture in the hand and clasp with the palm. If the mixture holds together (like a solid shape, at the same time fall apart, when pressed slightly) you can proceed to make Puttu. Otherwise, sprinkle little more water.
Place the coconut shell on top of a pot-shaped utensil with water. There is a round steel with holes placed in the bottom of the coconut shell. This will help the contents put in the shell, not to fall out through the holes in the shell. Use a utensil on which the coconut shell can sit tightly.
Place the utensil on the stove. Fill half the utensil with water and boil the water. Meanwhile, in the coconut shell place the steel filter. Add some grated coconut, then the prepared rice flour mixture. Fill up the coconut shell fully.
Place the coconut shell on top of the utensil tightly. Cover the shell with lid. Steam for 5 to 10 minutes. Steam will come out, from the top of the coconut shell. Once the Puttu is cooked. Take the coconut shell off the utensil, invert it to a serving plate. Puttu will come off the coconut shell.