It can be served as a side dish as well as an evening snack
Ingredients
1. Boneless small chicken pieces - 250g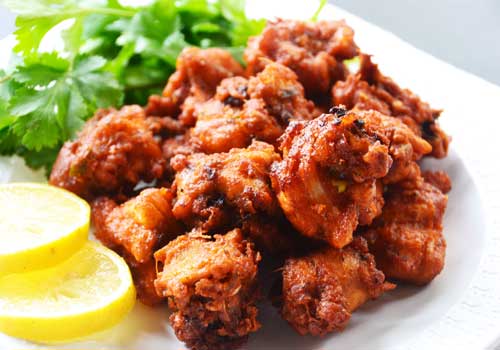 2. Grated root ginger - 1 tsp
3. Grated/crushed garlic - 1 tsp
4. Garam Masala - 1 tsp
5. lemon juice or vinegar-1 tbsp
6. Salt to taste
For Batter:
1. 100 gm/1 cup gram flour/chickpea flour/ Besan
2. 1 tbsp. rice flour or ground rice (makes pakoras crisper)
3. 1/2 tsp. carom seeds or ajwain
4. 1 tsp. coriander or dhania powder
5. 1 tsp. chilli powder, adjust to taste
6. 1/4 tsp. baking powder
7. 1 green chilli, chopped finely (optional)
8. 1 tbsp chopped coriander leaves
9. 1/2 tsp. oil
10. Salt as per taste
11. Water to make the batter
12. Oil for deep frying
Preparation Method
1. Place all the ingredients in a bowl and mix.
2. Add chicken pieces, mix well and allow to marinate for an hour or two. For a party, you can prepare a day before and keep in the fridge overnight.
3. For the batter, place all the ingredients in a bowl and add enough water to make a batter of dropping consistency. Beat well. Trapped air in the batter makes pakoras lighter and crisper.
4. Heat oil.
5. Dip chicken pieces one by one in the pakora batter and drop gently taking care not to splash the oil
6. Deep fry on medium heat, until golden brown. Cooking in very hot oil will make the batter burn quickly, without cooking the chicken thoroughly. Uncooked chicken is dangerous to eat.