This is well-loved snacks item equally loved by the young and the old. The sweetness mixed with the pungency of spices gives it its unique flavor. And all it needs is just 30 mins.
Ingredients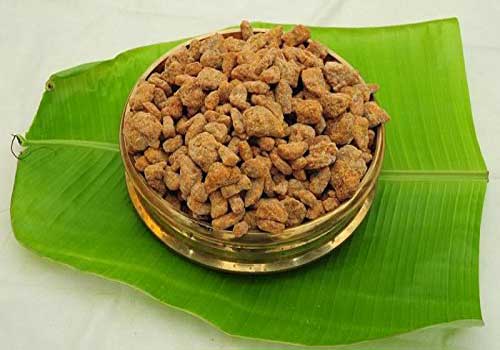 1.4 Green Plantain/Raw banana
2.Coconut oil for deep frying
3.1/2 cup Water
4.1 cup Jaggery
5.1/4 teaspoon Cumin powder
6.1/4 teaspoon Dry Ginger powder
Preparation Method
1. Peel the outer skin from plantains. Cut each lengthwise into 4 pieces. Now, slice each piece horizontally into small pieces, about an inch in size. Now deep fry these in bunches and transfer into a bowl.
2. Boil water and add jaggery to it. Stir on low flame to get a thick syrup. Turn off the heat and pour it into the bowl with plantains. Add cumin and ginger powder.
3. Mix thoroughly and transfer it to a greased tray. Let cool while spreading the chips as wide as possible to prevent clumping.